Dr. Brittany Elkins, PT DPT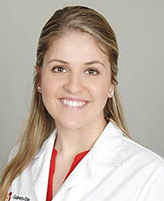 Dr. Brittany Elkins
Dr. Brittany Elkins received her Bachelors of Science in Excericse Science from the The University of North Carolina at Greensboro and her Doctorate in Physical Therapy from The University of St. Augustine in Florida.
Her clincial experience includes evaluation and treatment of spinal dysfunction, low back pain, shoulder dysfunction, total hip replacement, total knee replacement, sports injuries, amputee/prosthetic training, stroke rehabilitation, specialized training in Parkinson's Disease and is a Certified Senior Strength Specialist. Dr. Elkins received her Parkinson's Disease speciality certification from LSVT BIG Global and enjoys improving and maintaing functional independence among the Parkinson's community. She has also certified in advanced dry needling.
Dr. Elkins has experience in a variety of settings including skilled nursing facilities, assisted living communities, sub acute rehabilitation hospitals and private practice. She is an active member of the American Physical Therapy Association (APTA) and holds certifications in Adult and Infant First Aide and CPR.
Dr. Brittany Elkins is now certified in dry needling.