Dr. Carissa Essex, PT, DPT, Cert. DN
Certified in Advanced Dry Needling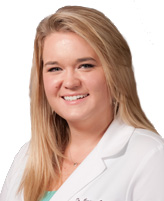 Dr. Carissa Essex
In 2010, Carissa received her Bachelor of Science in Exercise Science – Kinesiology from Liberty University of Virginia. She worked in a physical therapy clinic as an aide and exercise specialist which then encouraged her to pursue a degree in Physical Therapy. She attended George Washington University in Washington, DC and received her Doctorate of Physical Therapy in 2014.
Her clinical experience includes the evaluation and treatment of sacro-iliac and spinal dysfunction, treatment of stroke, traumatic brain injury, and other neurological conditions. She is experienced in treatment of sports injuries, joint replacements, shoulder dysfunction, low back pain, chronic pain rehabilitation, orthopedic musculoskeletal injuries. Her interests include treatment of a variety of diagnoses including lower kinetic chain dysfunction, Motor Vehicle Accidents, Women's Health / Pelvic Floor Rehabilitation and the promotion of overall health and wellness. Carissa has been trained in both the McKenzie Method and the Maitland-Australian approach of manual therapy.
She is a member of the American Physical Therapy Association and Orthopedic Section and Women's Health Section of the APTA. She is Health Care Provider Adult/Infant/Child First Aid and CPR certified and has certification under Virginia's direct access. She has also certified in advanced dry needling.