Dr. Cristina Trypanis, DPT MSPT
Certified in Advanced Dry Needling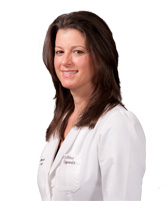 Dr. Cristina Trypanis
Dr. Cristina Trypanis received her Bachelor's degree from the University of North Carolina at Chapel Hill, and her Master's in Physical Therapy and Doctorate in Physical Therapy from Marymount University in Arlington, Virginia. She has treated patients of all ages with all types of musculoskeletal dysfunctions, to include, among others, the management of lower extremity injuries, sports injuries, foot and ankle disorders, and rehabilitation of stroke, pediatric and total-joint-replacement patients. She is trained and has vast experience in the field of orthotic fabrication and application. She has also certified in advanced dry needling.
Besides training and working at Georgetown University Hospital, Dr. Trypanis received advanced clinical training in Australia in the Maitland-Australian Approach for treatment of both Spinal and Peripheral conditions. This is a highly efficient and effective approach in the management of neuromusculoskeletal conditions. The Maitland Approach is concerned above all with the patient's needs and well-being, having a total commitment to understanding what the patient is enduring and the effects the disorder has upon the patient. Dr. Trypanis follows this approach in the daily treatment of her patients.
Before opening her own private practice in Gainesville, Virgina, Dr. Trypanis worked at Georgetown University Hospital, Fair Oaks Hospital and Reston Hospital as well as in a private practice clinic. She is an active member of the American Physical Therapy Association (APTA). She is married and has three children.
Dr. Cristina Trypanis
6862 Piedmont Center Plaza
Gainesville, VA 20155

(703) 754-4690

(703) 754-4692