Sherri Hanson LPTA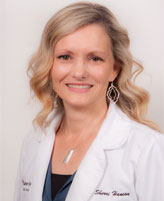 Sherri Hanson
Sherri Hanson is a Florida native and has settled in Northern Virginia following her husband's retirement from the U.S. Coast Guard. After raising their three children, Sherri decided to continue pursuing her college education and began the Northern Virginia Community College PTA program. She graduated with an Associate's degree in Applied Science of Physical Therapy in 2015 and has work experience involving outpatient and acute inpatient orthopedic rehabilitation.
Sherri has been serving the community as a Licensed Physical Therapist Assistance since 2015 and thrives on encouraging and educating patients to understand the importance of rehabilitation along with helping them accomplish their physical therapy goals and returning to ideal level of function. Her continuing education courses have focused on Foundations for Treatment of the Knee; Biomechanics of running; Shoulder impairments and symptoms; and Treatment of Post-Surgical Cervical and Lumbar Spine. Additionally, Sherri is certified as an STMT-C (Soft Tissue Mobilization Technique - Cupping) practitioner. Also, Sherri is certified in LSVT Big.
Apart from her love for Physical Therapy, Sherri is a mother of three and loves spending time with her family, and friends. In her free time, she enjoys running, hiking and traveling with her husband of 23 years.