Melissa O'Neill , LPTA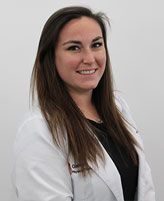 Melissa O'Neill
Melissa O'Neill, LPTA, a recent graduate thrives on motivating and encouraging patients and creating a positive environment to aid in achieving their goals. Working with people to help them better live their lives has always been her passion.
Melissa is a Warrenton, Virginia native who lived overseas with her family for 5 years. She began her interest in physical therapy as a student athletic trainer at Kettle Run High School. From there she went on to graduate from Appalachian State University with a B.S. in Exercise Science and a minor in Psychology. While at App State, she was very involved in the Exercise Science club and had the opportunity to attend the SEACSM conference where she was able to participate in numerous seminars on the advancement in therapeutic techniques. Melissa moved back to Virginia and spent two years as a Rehabilitation Specialist gaining knowledge working under several DPTs. Since then she went on to attend Northern Virginia Community College's Physical Therapist Assistant program. Melissa has been licensed since September 2020. Although a newly licensed professional, Melissa has been involved with the physical therapy field for over 10 years.
She currently lives in Warrenton, Virginia with her husband of 4 years and their 2 rescue dogs. When not at work, they enjoy hiking, kayaking, and spending time with family and friends.